Origins of Expressionism
Ernst Ludwig Kirchner trained as an architect to please his parents but was determined all along to be a painter. In 1905, with the fellow students Fritz Bleyl, Erich Heckel and Karl Schmidt-Rottluff, he founded an artists' group called Die Brücke (The Bridge). In 1906, Max Pechstein also joined this group, Otto Müller became a member in 1910. Influenced by van Gogh and Matisse, medieval printmakers and the arts of the South Pacific, the Brücke artists rejected academic conventions in favor of a direct and spontaneous freedom of expression.
For about six years they enjoyed an idyllic existence. Along with girlfriends and models they led a carefree, communal life involving free love, indoor and outdoor nudity and shared creative discovery. Unlike their contemporaries Picasso and Matisse, who spent long years in art academies learning to draw before embarking on their great experiments with colour and pictorial space, Brücke artists skipped school and went straight to the fun part of being an artist – the expression of feeling through brushstroke and colour. They then made a virtue of their lack of training by placing the direct expression of emotion at the forefront of their artistic project.
They made the mistake of surfacing at the same time as Fauvism in Paris. This led to comparisons that Matisse and Derain were better than Kirchner and Heckel. The argument was always the same: the French had a sense of harmony and balance, the Germans were brutal and exalted – in a word, expressionist.
Three Bathers_1913 (Kirchner)
Seated Girl_1910 (Max Pechstein)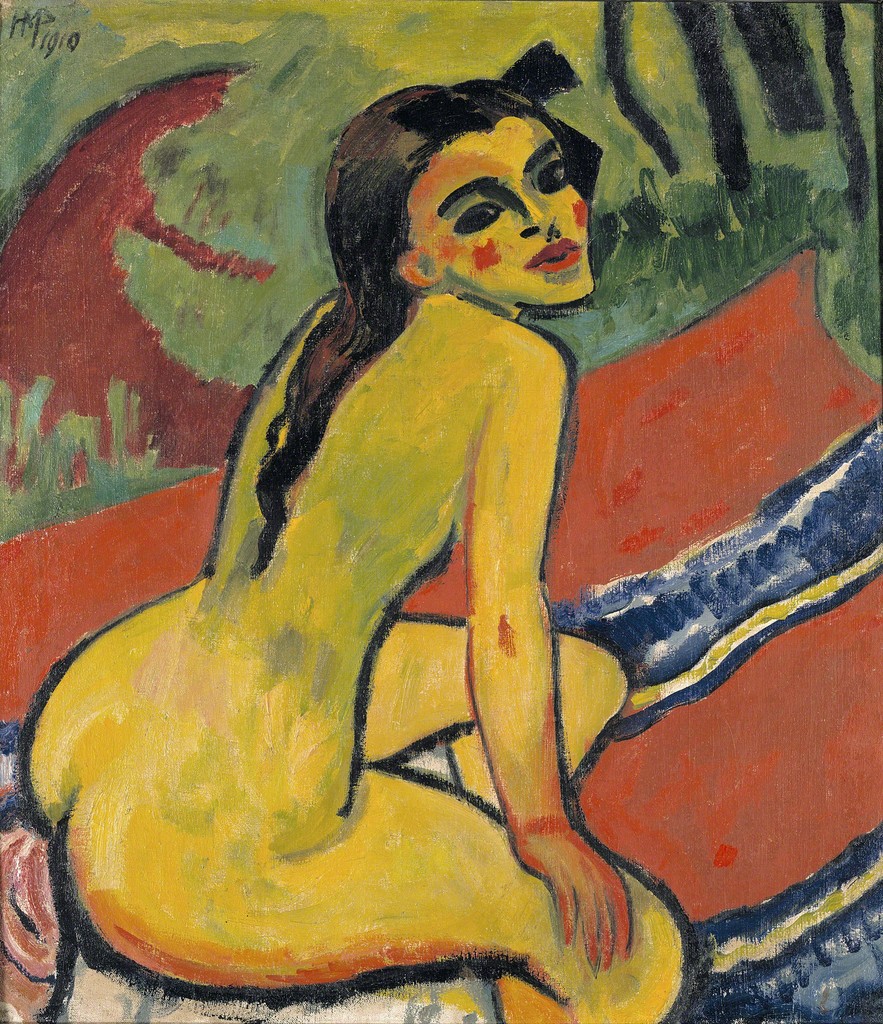 Two Girls by the Water_1910 (Erich Heckel)
Houses at Night_1912 (Schmidt-Rottluff)

Standing Nude with Hat_1910 (Kirchner)
Main Members
Max Pechstein
Karl Schmidt-Rottluff
Erich Heckel
Ernst Ludwig Kirchner