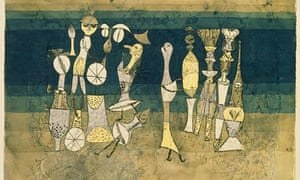 Rhythm 

&

 Movement

Paul Klee was born in 1879 in Bern, the most picturesque and magical Swiss city. His father was a music teacher, his mother a singer. Klee was inspired and consoled by music all his life. His wife, Lily, was an accomplished pianist; he was a skilled violinist. He studied art and then settled in Munich where he became loosely associated with Blaue Reiter expressionists including Kandinsky and Franz Marc. After his exposure to cubism and early abstraction on visits to Paris in 1912 and following his near mystical awakening to colour on a brief visit to Tunis in 1914, the foundations of his art were all in place.

Klee is a kind of hybrid – at once a cubist, surrealist, symbolist and expressionist -who alternately painted representational, abstract and semi-abstract pictures and who found inspiration in nature without ever attempting to depict a real tree or to paint a naturalistic landscape.

Klee saw art as a kind of performance, and like many early-20th-century artists he was interested in performances of all kinds. His paintings are filled with theaters, masks, puppets, acrobats and musicians. With the rise of National Socialism in the 1930's, Klee was forced to leave Germany; he returned to Bern, where he remained artistically isolated. He was ill for several years before dying of scleroderma in 1940.
Twittering Machine, 1922
Red Waistcoat, 1938
Angelus Novus, 1920
Park Bei Lu, 1938
Senecio, 1922