Spirituality & Social Reality
Today Murillo is not as greatly esteemed as that demigod of 17th-century Spanish art, Velásquez — but he once was. The youngest of 14 children, and himself a devout father of nine, he spent his entire career in his birthplace of Seville. There, as his compact brushwork gradually loosened up, leading to the soft delicacy of the so-called "estilo vaporoso" ("vaporous style") of his later years, he attracted the patronage of wealthy Dutch and Flemish merchants, as well as churchmen such as Justino de Neve. He became famous for painting children — including a series of scruffy street urchins — as well as for sweet depictions of the Virgin Mary.
Born in 1617, the son of a barber, he led the life of an ambitious, but pious and eminently respectable citizen, marrying the daughter of a fellow painter. His career and personal life were bound up with the church and the city's religious brotherhoods – those hooded fraternities who still process through Seville's streets during Holy Week – two of which he was himself a member.
Murillo, like the majority of Spanish artists, was heavily influenced by northern Italian realism, as well as the naturalism and careful, detailed precision of Dutch and Flemish genre scenes, all of which were extremely popular in Seville at the beginning of the 17th century.
A Young Man, 1640
The Young Beggar, 1645
The Girl with a Coin, 1649
Two Women at a Window, 1660
Christ the Good Shepherd, 1660
The Baptism of Christ, 1667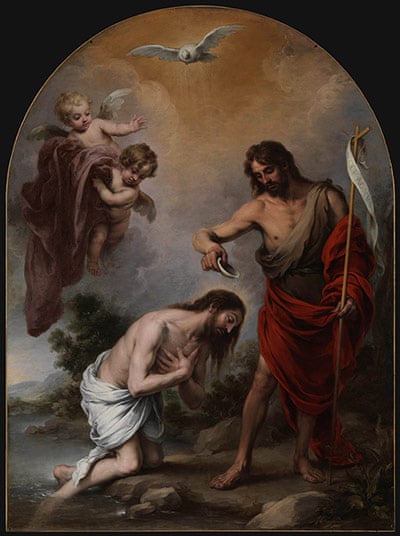 Immaculate Conception, 1678

Self-Portrait, 1672